Lynbrook Firefighters Fight Another House Fire
by Steve Grogan, Ex Capt. Lynbrook FD
On Sunday, January 13th,2002 the volunteers of the Lynbrook Fire Department fought their fourth major fire since Christmas Day. This fire was at 450 Ocean Avenue just opposite Village Avenue.
Lynbrook's bravest, under the command of Fire Chief John Matzen, responded to the two-story house, set back about 100 feet from street, at approximately 5:15 PM, to find that the chimney from a wood burning stove on the first floor of the house had started a fire in the wall which had spread upward to the second floor.
Chief Matzen who was first on the scene found heavy smoke coming from the house. The Chief also found the homeowner attempting to put out the fire with buckets of water. It's possible that because the homeowner broke through the wall to get at the fire before firefighters had arrived, oxygen fed the fire and spread it upward.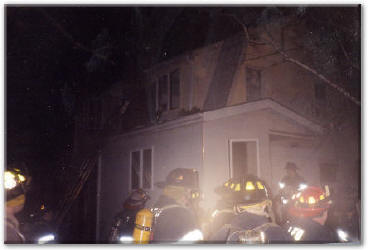 Vulcan Company was first on the scene and dropped at a hydrant on Ocean Avenue. They then stretched two attack lines from Ocean Avenue up the long driveway and into the burning house. Vulcan Company who took one hose line and Engine Company who assisted and took the second line, put the fire out on the main floor as well as on the second floor. While the hose lines were being moved into the house, members of Rescue, Hook and Ladder Company laddered the house and took out the windows so that firefighters could fight the fire inside. Chief Matzen set up his command post in the Floodlight Unit whose light towers were raised to illuminate the scene. Lynbrook's other fire companies assisted in the operation and the overhaul of the home.
In addition, Chief Matzen requested a mutual aid from the East Rockaway Fire Department which sent a ladder and ambulance to the scene. Lakeview sent an engine to Lynbrook while Rockville Centre sent a truck company. Both of them stood-by at Sunrise and Ocean to cover any additional Lynbrook calls.
The fire was brought under control in approximately 20 minutes but firefighters were at the scene until after 6:30 PM. Damage was estimated at $35,000.