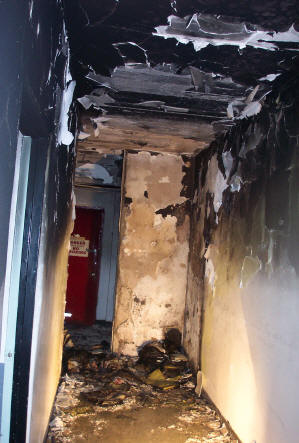 On January 27th, 2003, with temperatures in the single digits, volunteers of the Lynbrook Fire Department were called to fight a fire in an apartment building on Merrick Road. This was just one day after helping to fight the gas explosion fire in a Lakeview home on Super Bowl Sunday.
At about 11:40 PM, the Lynbrook Fire Department, under the command of Fire Chief John Obanhein, was notified of a heavy smoke condition at 504 Merrick Road opposite the Lynbrook North Middle School. Chief Obanhein and his deputies were first on the scene and broadcast a "Signal 10" for a working fire as heavy smoke billowed out the front entrance to the building.
Tally-Ho Engine 3 and Engine Company 1 were first on the scene with Tally-Ho taking the hydrant near the front of the building. Truck Company and the Floodlight Unit with the Command Post parked in front of the building. Hose Company, Vulcan and the Medical Company stood-by. Tally-Ho stretched one hose line while Engine Company stretched a back-up line into the building. Firefighters found a wall of fire in the first floor hallway that appeared to have started in piled newspapers and phone books that were stacked in the hallway. The fire had made its way up the wall and was quickly moving along the ceiling. The fire was quickly knocked down in about 10 minutes. Members of Truck Company then moved in and began the overhaul of the walls and ceiling to check for spread of the fire. A mutual aid from the Rockville Centre FD was requested and they sent a ladder, an engine, and an ambulance to cover additional alarms in Lynbrook.
Due to the suspicious nature of the fire, Chief Obanhein requested an investigation by the Nassau County Fire Marshal's Office. No firefighters or tenants of the building were hurt and fire damage was contained to the floor, walls and ceiling of the hallway were the papers were stacked. Firefighters remained on the scene till approximately 1:30 AM.