Story By Shannan Murphy- LFD Press Liaison - Photos by Shannan Murphy & Steve Grogan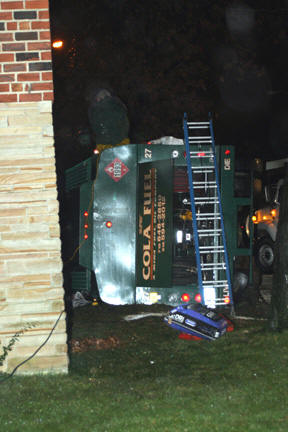 An oil tanker, carrying approximately 4,400 gallons of oil was involved in a motor vehicle accident on December 6, 2004 resulting in an overturn against an apartment/office building at the intersection of Peninsula Boulevard and Hempstead Avenue. Due to a compromise in the structure of the building and to oil leaking into the building, the property was immediately evacuated. Residents in the building were expected to be displaced until at least tomorrow morning, according to Chief of the Lynbrook Fire Department, David Pearsall. Residents were able to take refuge from the cold and rain inside the Lynbrook Elks Club, located across the street from the incident.

At approximately 1:15pm, the Lynbrook Fire Department was called to respond to an auto accident. Shortly upon arrival, personnel in charge at the scene upgraded the call to a "still" alarm and than finally to a "general" alarm. In addition to the Lynbrook Fire Department, the Lynbrook Police and Village Department of Public Works responded to access the situation. Since the tanker was leaking oil, containment of the leak and treatment of the spill became top priority. Lynbrook's Emergency Management Office also provided much needed assistance during this emergency.

Additionally, volunteers from the East Rockaway, Rockville Centre, Lakeview and Valley Stream Fire Departments were helping not only at the scene, but also in providing back-up to Lynbrook in the event of any additional emergency calls. "At times like these, it is imperative to have the support and assistance from our neighbors," commented Chief Pearsall. "Our neighboring Departments were quick to respond, ready and willing to lend a helping hand and for this, I thank each and every member on behalf of the Lynbrook Fire Department."

Assistance was also provided by the Malverne and East Rockaway Departments of Public Works, the Environmental Protection Agency, the Nassau County Emergency Services Unit, the Department of Health and a number of Environmental clean-up companies.

It is estimated that less than 100 gallons of oil entered into the building, while approximately 1,800 gallons of fuel was unaccounted for.

The cause of the accident is not clear at this time, although weather may have played a role. All but seven families from who live in the affected building went to stay with relatives for the evening. One resident was transported to a neighborhood assisted living facility and the seven remaining families were provided shelter at a Lynbrook hotel.