By Ex-Captain Steve Grogan
At the Fire Council meeting held on Tuesday evening, April 18, 2006, Mayor Eugene Scarpato of the Village of Lynbrook swore in Keith Festa to the position of Chief Engineer of the Lynbrook Fire Department for the coming year. Festa has spent the last three years as a deputy chief. The mayor also swore into office the newly elected, First Deputy Chief Robert Occhipinti, Second Deputy Chief John O'Reilly, and Third Deputy Chief Kevin Bien. The family of the new Chief and the families of the deputy chiefs were on hand for the swearing in.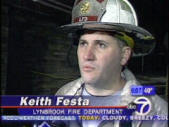 Chief Festa, first joined the Lynbrook Junior Fire Department at age 14 in 1986. Four years later when he turned 18 years of age he joined the regular fire department. The Chief, now a 16 year member of Vulcan Company #2 on Denton Avenue, is a Port Authority Police Officer at JFK Airport. The new Fire Chief is following in his father Ron's footsteps. Ron, also a Lynbrook volunteer, and was the Fire Chief from 1981 until 1982. Chief Keith Festa, and his wife Rebekah have two children, Dylan, age 2 and ½, and Luke, who is 17 months. They are expecting their third child in July.
After Chief Festa and his deputies were sworn into office by the mayor, the Chief then swore in the company officers for the coming year. After that, Village Administrator Carol Hansen swore in the Wardens for each of the six companies that make up the Lynbrook Fire Department.
A First for the New Chiefs----They Were All Once Juniors
For the first time in the over 100 year history of the Lynbrook Fire Department, all four elected fire chiefs are former members of it's junior fire department program. It is believed to be the first time in the volunteer fire service on Long Island as well as in the State of New York, that the recently elected fire chief, Keith Festa, and all three of his deputy chiefs, Robert Occhipinti, John O'Reilly, and Kevin Bien, are former junior firefighters. All four of these men first learned firematics in the Lynbrook Junior Fire Department which was founded in 1979, during the administration of then Fire Chief Bob Forte, uncle of the new third deputy chief.
Besides the chiefs, some of the fire companies also have former juniors as line officers.
The present chiefs are among the approximately 70 youngsters since 1979 that went on to become Lynbrook volunteers. At present 49 of those that graduated the program are still active firefighters in the Lynbrook Fire Department.