Story & photos by Ex Captain Steven Grogan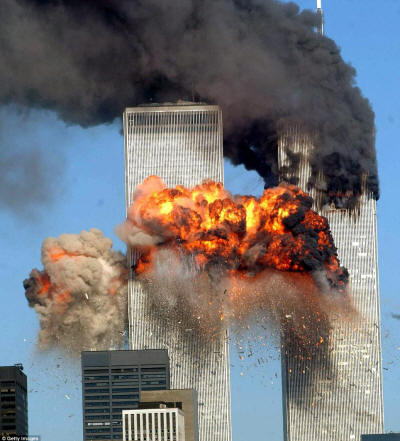 I remember the saying when I was growing up that everyone would remember the day that President Kennedy was shot. Now everyone, including now our children, will remember where they were on September 11, 2001.
On that day, a beautiful early fall morning, Tally-Ho Company of the Lynbrook Fire Department (LFD) was hosting their annual golf outing at the Lido Golf Course in Lido Beach. It was going to be a great day to play golf. As you stood on the golf course, under clear blue cloudless skies, you could see across the water all the way to the New York City skyline. What a beautiful site it was that morning. Besides the Tally-Ho members and other volunteer firefighters in the LFD, there were a large number of New York City firefighters who had taken the day off and were playing golf with us. Because we played a "shotgun start" my foursome started golf shortly after 7:00AM on the back nine holes. From the back nine you get a clear view of NYC about 25 miles away. Shortly after 8:50 AM, while getting ready to tee off on one of the holes, Lynbrook Ex-Chief Richard Neidecker who is also a Lynbrook Police Detective, noticed that smoke had just begun billowing from the north tower of the World Trade Center. We could see the fire and commented to each other that NYC firefighters would have their hands full with that fire, but we knew it was something they could handle. They are the best. We continued to watch when we suddenly saw the south tower suddenly explode in flame. We could actually see the orange colored fireball from where we stood on the golf course. At this point we knew something was terribly wrong and this was no ordinary fire. We passed the word around the golf course and firefighters began using their cell phones. I used my phone to call my office at the Justice Department. I was told that two hijacked planes had crashed into the buildings and that military fighter planes were being requested by NYPD to protect the city from further plane attacks.
We stopped playing golf and just stood on the green and watched helplessly as the buildings burned so far away. A resident of a house near the water came out to the course and told everyone what was going on. We then learned of the two other crashes at the Pentagon and one near Pittsburgh. In looking at the burning towers in the distance I was reminded of one of our bombers that crashed into the Empire State Building after World War II. Although I was not born yet I remember as a youngster seeing the photographs in an old Life magazine article. Although that crash damaged the building extensively, the Empire State Building did not collapse. We were all shocked as we watched one tower, then the other, collapse in a cloud of fire, smoke and dust. I and everyone else watching never thought they would have collapsed.
With what we had just witnessed, we all came to realize that we were no longer interested in playing golf and we all headed back to the clubhouse to see the news on TV before heading back to Lynbrook. The NYC firefighters learning how bad the situation was got in their cars and headed for the city. Some of them would have been in those towers that morning if they had not taken the day off to play golf with the volunteers.
At 10:45 AM, Lynbrook's Fire Chief John Matzen, also a Lynbrook police officer, called the Lynbrook volunteers to stand-by duty at their firehouses awaiting orders for assistance that would be needed in New York City. All throughout Long Island volunteer fire departments were standing by to assist our brother firefighters. At 12:30 PM, Lynbrook's Hose Company, Vulcan Company, Rescue Hook and Ladder Company, and the Emergency Medical Company ambulance responded to the Belmont Race Track in Elmont where Nassau County was assembling it's volunteer department's response to the City. Rescue, Hook and Ladder Company was immediately dispatched to NYC Ladder Company 134 in Far Rockaway whose truck was now in Manhattan. Lynbrook was now responding to fire calls in Queens. Chief Matzen stayed with the Hook and Ladder.
In the early afternoon, Hose Company, Vulcan Company, and the Medical Company were moved to stand-by duty at Shea Stadium. In the meantime Lynbrook's Heavy Rescue was also requested to respond from Lynbrook to the City. It was originally dispatched to Greenpoint Avenue in Brooklyn but was later reassigned to West Street where they assisted in the World Trade Center rescue operation led by then Deputy Chief John Crowley Jr, who is a Nassau County Fire Marshal. While at West Street they were joined by Lynbrook's Floodlight Unit, which had now also responded from Lynbrook. The Floodlights mighty light towers kept the area aglow as the rescue operation continued through that first night. The Emergency Medical Company was later dispatched from Shea to the Chelsea Piers in Manhattan where their crew assisted through the night in treating those injured in the rescue operation.
At 11:40 PM on Sunday, September 16th, the New York City Fire Department again asked for Lynbrook's Floodlight Unit to respond to West Street so that they could again light up the continued rescue operations. They remained until sun-up the following morning.
What happened on September 11, 2001 will be remembered by everyone, young and old. Besides remembering the horror of that day, let us also always remember the dedication and sacrifice that our brother firefighters, police officers and medical personnel made to rescue those in the World Trade Center towers on that beautiful fall morning.