Medical Company Assists in Childbirth in Home
July 15, 2017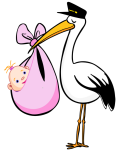 On the morning of May 31, 2017, Ex-Captain Cathy Bien of Medical Company responded to a call of "woman in labor" and upon entering the house found Lynbrook Police Officer Anthony Falsitta holding a newborn baby boy that was just delivered by Rebecca Mansour while she was sitting on the toilet.

The Officer handed the baby to Ex-Captain Bien who cleared his airway and stimulated the baby to get him to begin breathing. After cutting the umbilical chord, the baby and Mom were transported to South Nassau Hospital, where they stayed for a few days.

The parents sent this message to Cathy recently:

"Hi Cathy, it's me, the girl who gave birth in her bathroom 1 month ago
! I hope all is well with you. My husband and I just wanted to thank you for responding and rushing over that morning to assist after the baby delivery. Thank you for helping in any way that you could. And thank you for riding in the ambulance with us to make sure we were alright. We really appreciate it. We are thankful to everyone for working together that morning to get the baby and I safely to the hospital and we are thankful to God that our baby boy is healthy and beautiful.
Yesterday he turned 1 month!"
www.lynbrookfd.org
Copyright © 2017 Lynbrook Fire Department. All rights reserved.
Revised: 15 Jul 2017 14:39:25 -0400 .