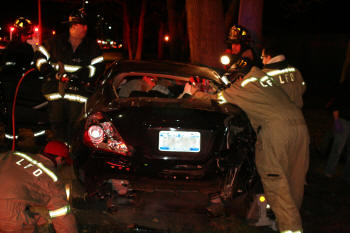 At about 1:20 AM on Sunday morning, January 4, 2009, the volunteers of the Lynbrook Fire Department were called out for a reported auto accident on Sunrise Highway. They were also informed that a person was trapped in the vehicle. The Extrication Team, and the Emergency Medical Company, under the command of Chief John O'Reilly responded quickly. Upon arrival at the scene, Chief O'Reilly also requested the response of Tally-Ho Company from nearby Horton Avenue, and the Floodlight Unit for lights.
At the scene firefighters found that the vehicle, a Nissan Altima, hit a tree on the north side of Sunrise near the railroad track embankment and just west of the intersection with Bixley Heath. The passenger side of the vehicle was rapped around the tree. The driver got out of the vehicle but his female passenger was trapped inside by the twisted metal.
The Extrication Team went to work and cut off the driver's door while a second team cut through the mangled wreckage on the passenger side. The roof of the vehicle was also cut off so that the passenger could be removed from above. One of the passenger's legs was trapped in the wreckage and had to be freed before she could be taken out. A Nassau County EMS officer who had arrived on the scene first got into the backseat of the vehicle and stabilized the victim while firefighters used the tools to cut the passenger out.
The LFD was also assisted by the Nassau County Police Emergency Services Unit who also responded and provided backup and additional tools to the Lynbrook volunteers. The driver was transported to the hospital in Lynbrook's ambulance 425A, while the female passenger after being freed was taken in a Nassau County Police ambulance to the hospital.