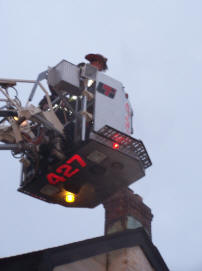 A senior citizen husband and wife on the second floor of their two story home in Lynbrook suddenly heard the pounding on their front door on the afternoon of December 26, 2009. A neighbor was knocking to tell them that their house was on fire.
At 4:15 PM, the Lynbrook Fire Department, under the command of Chief Kevin Bien, was dispatched to the house at 192 Union Avenue near Marion Street for a reported fireplace fire. A Lynbrook police officer who was near the scene reported a "working fire" at that location. The responding fire units were then notified of a "Signal 10" at that address.
Engine Company 1 from the firehouse behind Lynbrook High School was first on the scene and took the hydrant across the street and just past the house. Smoke could be seen coming from the house including along the length of the fireplace chimney on the side of the house. It was determined that the fireplace had been last used on Christmas Day night and the fire had been smoldering in the chimney and the wall since then. The fire started in the wall above the fireplace because of a breach in the chimney bricks. The fire spread from the fireplace wall and across the living room ceiling. It had also extended up the exterior wall to a second floor bedroom.
Engine Company dropped two attack lines and took the first line to the second floor where they were able to stop the fire before it extended further up into the attic. Tally-Ho Engine 3 took the second line and extinguished the fire on the first floor, while Truck Company which put its bucket up to the chimney pulled the aluminum siding from around the chimney. Ceilings and walls on both floors had to be pulled down to get at the traveling fire. Additional manpower from the other engine companies assisted while the Medical Company stood-by, but no injuries were reported.
Chief Bien upon arrival requested the immediate assistance of the East Rockaway Fire Department, which sent a Fast Team to the scene. They stood-by. Additionally, Rockville Center Fire Department sent a ladder, engine and ambulance to answer any additional in Lynbrook.
Firefighters were at the scene for just over an hour. The estimated damage of the fire was put at approximately $50,000.