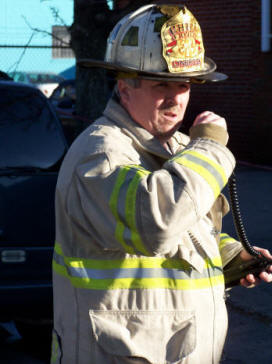 The volunteers of the Lynbrook Fire Department spent a busy afternoon on Monday, December 29, 2008. First, at just after 3 PM the volunteers, under the command of Chief John O'Reilly, responded to a reported fire inside a warehouse at 96 Merrick Road, opposite Charles Street. Allegedly a worker using a forklift hit a gas fed heater hanging from the ceiling rupturing the gas line and igniting a fire in the heater and ceiling area. Engine Company took the hydrant in front of the building and stretched an attack line through the side parking lot into the warehouse area. Truck Company, using 427, put its bucket to the roof. The other arriving fire companies also assisted and stretched additional back-up lines. The Medical Company stood-by.
While Engine Company attacked the burning heater and ceiling area, Truck Company, using a saw, opened up the roof. The fire was found to have been moving in all directions from the heater and between the roof and the ceiling area. The work by Truck Company on the roof, and the hose attack from below, firefighters were able to quickly extinguish the fast spreading fire. Rockville Centre FD's ladder also responded on a mutual aid and they laddered the back of the building on Rocklyn Avenue. Firefighters were on the scene for about an hour and no one was injured.
Second, Just as firefighters were packing hose and getting ready to leave the warehouse the Department was notified at about 4 PM that there was another reported fire in a fourth floor apartment at 504 Merrick Road, opposite North Middle School. Tally-Ho was first on the scene and found that the apartment owner had been cleaning his oven and someone smelled the fumes and claimed to have seen smoke. There was no fire.
Third, as firefighters arrived at 504 Merrick, they were notified at 4:05 PM of another reported fire, this one in the woods between Woods Street and the Long Island Railroad. Engine Company which had just finished up at the first call responded to this fire as all the other engines were assigned to 504 Merrick. That fire was quickly extinguished.