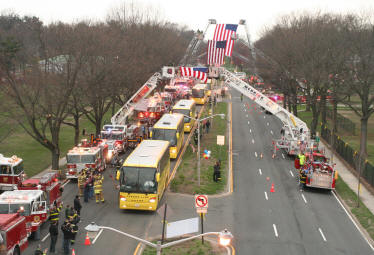 On Friday, April 11, 2009, the volunteers of the Lynbrook Fire Department joined approximately 40 other Long Island fire departments, along with upwards of over 2000 well-wishes and family members, to welcome home 300 Marines assigned to the 2nd Battalion, 25th Marine Regiment, as they arrived on buses at the Marine Reserve Training Center on Stewart Avenue in Garden City, from their most recent tour in Iraq.
Truck Company 427, and Vulcan Company 422, along with other department members, joined with the other departments lining both sides of Stewart Avenue from Clinton Street to the training center. As the buses carrying the troops passed, firefighters saluted and waved American flags, and fire truck horns and sirens blew. Some of the pictures displayed here were taken from 427's bucket. Truck Company joined with Lakeview's ladder to fly one of the many American flags that the troops passed under on their return home.
One of those returning Marines was Lynbrook resident, Cpl. Timothy Ledwith, a New York City firefighter, and the son of Lynbrook Village Attorney Peter Ledwith, and wife Susan. This was Ledwith's third tour of duty in Iraq. During its most recent deployment, Ledwith and the other Marines performed counter-insurgency missions and trained Iraqi security forces. This unit fought in the Gulf War of 1990 and 1991, and again in Iraq in 2002, 2003, and for the past seven months.