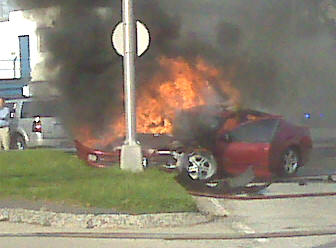 Firefighter Brian Brown of Truck Company 1 of the Lynbrook Fire Department is no stranger to vehicle accidents as a Lynbrook volunteer firefighter and as an Emergency Services Unit detective with the New York City Police Department. Brown's experience and actions on the afternoon of Wednesday, April 7, 2010, in Lynbrook, resulted in saving the life of a driver whose vehicle was engulfed in fire after an auto accident in Lynbrook.
At 4:45 PM, Brown heard the sound of a collision near his home in Lynbrook. He came out of his house to see a two car accident on nearby Peninsula Blvd. As he quickly ran to the scene, one of the cars was already on fire and the driver was still inside his wrecked vehicle. Brown ran to the car and pulled on the driver's door but found it partially pinned by the accident and blocked by the other vehicle. The windows were closed and interior of the car was filled with smoke and fire could be seen around the dashboard. Brown forced the door and then squeezed into the partial door opening. He found the driver unconscious and covered by the inflated air bag. Brown, taking much effort, was able to lift the man from his seat as the black smoke got heavier and the fire grew larger.
Just as he was pulling the man from the seat and back through the narrow door opening, Lynbrook Police Officer Doug King who had responded to the accident call, came up from behind Brown and pulled them both through the door space as flames soon engulfed the passenger area. They then both carried the man away from his burning vehicle. The vehicle was fully engulfed in flames when firefighters arrived.
The Lynbrook Fire Department, under the command of First Deputy Chief Ray Burke, responded to the working car fire and accident with two engines, a ladder, the department's Extrication Team vehicle and two ambulances. A total of six people were injured in the accident.
The injured driver was taken to Mercy Hospital by a Nassau County Police ambulance in serious but stable condition. The other five injured were transported to the same hospital by Lynbrook and East Rockaway Fire Department ambulances. Those five had minor injuries.