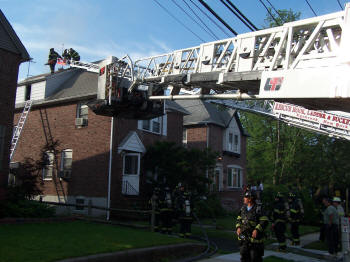 On Friday, July 17, 2009, at approximately 7:25 AM, a senior citizen homeowner, asleep in her residence at 73 Bixley Heath, was awakened by the sound of someone pounding on her front door. When the homeowner, who lived alone, opened her door, a neighbor frantically told her that her house was on fire as smoke billowed from the home's attic and roof.
The Lynbrook Fire Department was called immediately and the volunteers responded. Third Deputy Chief Anthony DeCarlo, first on the scene, broadcast a Signal 10, for a working fire at that location. Second Deputy Chief Mike Hynes also arrived and took over command of fire operations.
Tally-Ho Engine 3 was the first engine on the scene and took the hydrant at the nearby corner. They quickly stretched a hose line into the house while a second back-up line, also off Tally-Ho, was manned by Engine Company 1 members. Truck Company also responded with both their ladders and raised them to get firefighters to the roof. They then ventilated the smoky fire by cutting a hole in the roof. This allowed the smoke and heat to escape from the attic as the firefighters battled the fire below with the hose line.
Members of Vulcan, and Hose Companies, stood-by to cover additional alarms while the Emergency Medical Company was on scene to treat any possible injuries. Additionally, the East Rockaway Fire Department sent a "fast team" to the scene to help.
The fire was quickly brought under control by an aggressive attack in the attic where the fire was contained and extinguished. Lynbrook volunteers were at the scene for just over an hour. The fire was not considered suspicious and was possibly caused by an electrical problem in an attic fan. The Nassau County Fire Marshal's Office was called for a routine investigation. No one was injured.
Lynbrook Chief Kevin A. Bien, praised the volunteers for their quick attack of the fire which saved the house from additional damage.