Barbecue Causes House Fire
Story and Photos by Ex-Captain Steve Grogan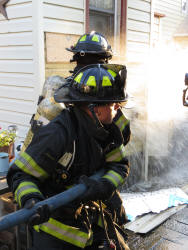 On Thursday, September 12, 2012, at 6 PM, the Lynbrook Fire Department was dispatched to a reported house fire at 45 Washington Avenue. Lynbrook Chief Anthony DeCarlo upon his arrival announced that smoke was showing from the rear of the house.
The first arriving firefighters found a burning gas barbecue which was too close to the back of the house and had melted and burned the siding. Engine Company was first on the scene and stretched a line to the rear of the house. Truck Company also arrived and assisted in removing the melted siding from the house.
The other arriving fire units stood-by. Engine Company's hose line was used to wet down the outside wood framed walls underneath the siding. The inside of the house was also checked to make sure the fire had no spread into the inside walls. Damage was contained to the outside.