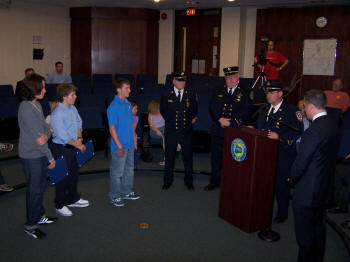 At the Lynbrook Village Board meeting held on September 14, 2009, the Lynbrook Fire Department honored the three youths, Danny Gallagher of Lynbrook, and Gideon Stryker and Jacob Kayen, both of Hewlett, who together awoke a senior citizen couple at 342 Union Avenue, Lynbrook, in the early morning hours of August 28, 2009, to tell them their house was on fire.
They then helped them from their burning home. At the meeting, Chief of Department, Kevin Bien, presented Citations to each of the youths and praised them for their actions.
Lynbrook Mayor Brian Curran also presented Citations on behalf of the Village of Lynbrook to the youths as well.