Story & photos by Ex Captain Steven Grogan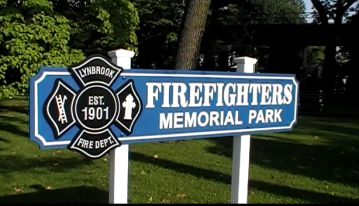 On Sunday morning, October 21, 2012, the Lynbrook Fire Department, led by Chief Anthony DeCarlo, held their Annual Memorial Service at the Firefighters Memorial on Sunrise Highway and Earle Avenue. The Memorial remembers the six Lynbrook volunteers who have died in the line of duty from 1932 to 1963. Their is a stone on the ground in front of the Memorial which lists those that made the supreme sacrifice for their fellow residents.
After the service in which a wreath was placed at the Memorial and Chief DeCarlo and Mayor William Hendrick spoke, the members moved to the Knights of Columbus Hall on Hempstead Avenue for breakfast.
At the breakfast the speaker was former Tally-Ho member and Ex-Captain Frank Barberio who as a Lieutenant in the NYPD spoke about ESU and Urban rescue operations and some of the locations where NYPD officers and others assisted in rescue operations in some recent major devastated areas.