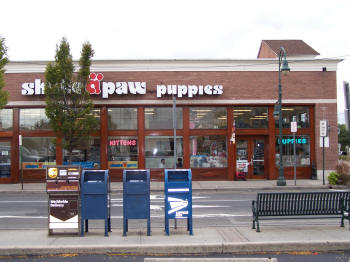 This is one of those believe it or not stories!
On Wednesday, September 30, 2009, at about 6:30 PM, the Lynbrook Fire Department was dispatched on a general alarm for an automatic fire alarm activation at the Shake-a-Paw Puppies store at Five Corners in Lynbrook.
With the reported general alarm fire call, the entire Lynbrook Fire Department, under the command of First Deputy Chief Ray Burke responded to the scene. The arrival of the fire trucks at the busy intersection caused a traffic nightmare.
Chief Burke, first on the scene, entered the puppy store and found no fire. He then determined that a wall fire alarm box had been pulled, however no employees or customers were anywhere near the box when it sounded. So who was left?
Investigation determined that a cute brown Cocker Spaniel puppy in a cage next to the wall where the pull box was located had accidentally pulled down on the alarm handle while excitingly pawing through the cage as another dog being walked by its owner passed outside on the sidewalk. The puppy was able to pull on the alarm because the puppy's cage had been moved close to the box while employees were changing the water in the cages. While the puppy scratched on the wall at the sight of the other dog outside it hit the pull down handle on the alarm and activated the fire alarm.
While Lynbrook firefighters re-set the alarm system, some of the other firefighters laughingly expressed an interest in purchasing the puppy wondering aloud what other tricks it could do. The store owner moved the puppy to another cage and a smaller dog was put in its place.
Additionally, it was also determined that the dog owner who had walked his dog outside past Shake-A- Paw was Lynbrook's Third Deputy Chief Anthony DeCarlo.