Story & no photos by Ex Captain Steven Grogan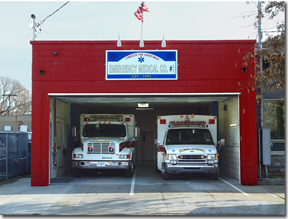 A Valley Stream mother was visiting a friend's home in Lynbrook when suddenly her two small children were gone. Unbeknownst to her both had climbed through a doggie door and the baby, just two and one half years old, fell into the backyard in-ground pool. Although the pool had a cover, the cover was filled with water.
On April 13, 2011, the Lynbrook's Emergency Medical Company was dispatched to the home on Windsor Place for the reported "child fell in a pool." First Deputy Chief Anthony DeCarlo and Third Deputy Chief Michael Anderson were first on the scene. Upon entering the home Chief DeCarlo was handed the lifeless ice-cold baby by the mother who had gotten him out of the water. The baby was not breathing. Chief DeCarlo immediately turned the baby over and patted his back and water came out of his mouth. While he was administering to the baby, Chief Anderson calmed the hysterical mother.
Meanwhile, Ex-Captain Cathy Bien of the Medical Company, an AEMT, arrived and took over. She gave two more thrusts to the baby's back and more water came gushing out. She then administered rescue breaths and the baby finally began to breathe. The baby, who was cyanotic in color, was also likely suffering from Hypothermia, and was wrapped in blankets. Ex-Captain Bien was joined by Ex-Captain Clayton Murphy, of Vulcan Company, also an AEMT. Together they continued to work on the baby until a slow consistent pulse was achieved.
Instead of waiting for the ambulance Chief DeCarlo decided to transport the baby to the hospital in his chief's car with the two AEMT's, and Ex-Captain Richard Straub, also of Vulcan Company, who had also arrived on the scene. A Lynbrook police car escorted the chief and brought the mother. While in the chief's car the AEMT's administered oxygen and kept the baby warm with the blankets. The heat was also turned on in the car.
Enroute, the baby's skin color slowly turned to pink and his pulse improved greatly. He also opened his eyes for the first time and just as they arrived at the Emergency Room of South Nassau Communities Hospital the baby let out a big loud cry. As Ex-Captain Bien put it, "It was the best sound I ever heard!"
The baby, after being stabilized at SNCH, was transferred to LIJ Children's Hospital were the baby spent a few days before going home.
Lynbrook Fire Chief Michael Hynes said, "Every one of our volunteers involved in this rescue did a great job and I am glad to hear the baby is doing just fine."
With summer approaching, the chief also reminds residents of the dangers associated with children and pools. "Lets have a save summer," said the chief.