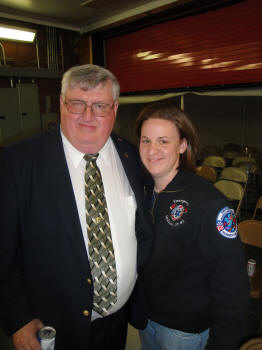 The 81 year old senior citizen, a resident of Atria Tanglewood, at 125 Ocean Avenue, had just sat down for dinner in the facility's dining room shortly after 5 PM on the afternoon of April 20, 2010. As he enjoyed his turkey dinner with stuffing and broccoli he suddenly began to choke and collapsed to the floor. Staff personnel ran to his aid and also called the Lynbrook Police and Fire Departments.
Police officers and firefighters were at the scene in minutes. Police Officer Doug King was first on the scene and found the man unconscious and not breathing. He tried the Heimlich maneuver a number of times by lifting the victim up from the floor but without success. He was still not breathing. Suddenly Lynbrook's Emergency Medical Company Captain Tracey LaBarbera, who is also an FDNY rescue paramedic, arrived. She took command and immediately lay on the floor next to the victim to visualize his vocal cords. She found a large amount of food was lodged in his throat. She first tried using forceps to unblock the victim's airway, without success. Firefighters from the Medical Company then brought in a portable suction unit. Captain LaBarbera, working quickly, then used the suction machine to extract a large amount of food from the victim's throat.
Finally, with the removal of the food, the victim started to breathe. A bag valve mask was then placed on the victim's face to force oxygen into his lungs and keep him breathing. Shortly thereafter it was changed to regular oxygen mask as the victim began breathing comfortably on his own. He was then transported in the Emergency Medical Company ambulance to the hospital.
According to then Chief Kevin Bien, who was also at the scene, "the senior citizen is alive today due to the quick action and care rendered by Captain LaBarbera."
This is the second time in the past month that a Lynbrook firefighter's actions saved the life of a person. Lynbrook firefighter Brian Brown pulled the driver out of his burning car after an accident on Peninsula Blvd. Brown also received assistance with the rescue from Lynbrook Police Officer Doug King. The photo above is of Tracey LaBarbera with her father, Chief Ray Burke.