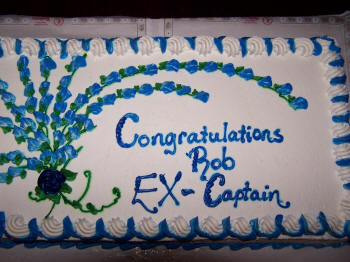 On Saturday evening, October 17, 2009, the Floodlight Unit of the Lynbrook Fire Department honored the past Ex-Captain of the Unit, Ex-Chief and Nassau County Fire Commissioner Robert Cribbin, at a dinner held at the Pompei Restaurant in West Hempstead.
Rob, already an Ex-Captain of Tally-Ho, was an officer in the Unit when he ran for Chief of Department. After completing his four years as a Chief, Rob came back to be an officer once again in Floodlight. Rob served the last two years as Captain of the Unit. Numerous public officials made presentations to Rob at the dinner honoring his service and dedication.
Additionally, Rob presented the 2007 Floodlight Man of the Year award to Frank Feltkamp of Vulcan Company, and the 2008 Floodlight Man of the Year award to Jim Deliver of Tally-Ho.