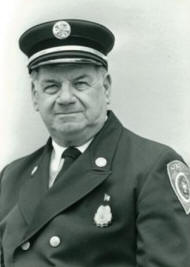 Ex-Chief and Honorary Commissioner Dominick J. DeCarlo Jr., a 65 year member of Tally-Ho Engine Company 3 of the Lynbrook Fire Department, and a former Lynbrook Village Trustee, passed away on Monday, Jan. 23, 2012. "Uncle Dom," as he was lovingly called by the members of the Lynbrook Fire Department, was 86.
Dom joined Tally-Ho on Feb. 5, 1947. One year later after completing his probationary period, he was elected the company Secretary and served in that position till 1951. In 1953, he was elected Second Lieutenant and rose through the officer ranks to become the Captain of Tally-Ho in 1955.
In 1960, Dom became a company trustee and served in that position for many years. Besides his duties with Tally-Ho he was also very active in the Department's then Rescue Squad. He also served as Captain of the Rescue Squad.
In 1965, Dom was elected Third Deputy Chief and after serving one year in each of the Deputy positions, became Chief of Department in 1968. After completing his term as Chief, Dom became one of Tally-Ho's Wardens, representing the company on the Fire Council and served in that position until 1985.
Also in 1970, Dom took on additional duties by being elected Treasurer of the Lynbrook Fire Department, a position he served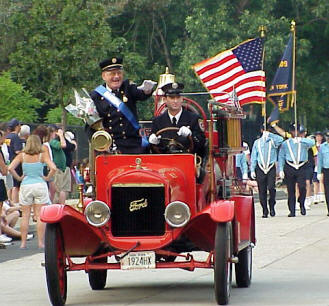 in for 17 years. Dom was also the Department's delegate to the 4th Battalion and a delegate to the Nassau County Firemen's Association. He was an active member of the Nassau County Fire Chief's Association, the New York State Association of Fire Chiefs, and the International Association of Fire Chiefs.
15 years ago when Dom was honored for 50 years of volunteer service he was made an Honorary Fire Commissioner.
Besides Dom's duties with the Lynbrook Fire Department, he also served as an elected Lynbrook Village Trustee from 1987 to 1991. He was also a member of the Lynbrook Elks.
Dom will be reposing at Flinch & Bruns Funeral Home, Hempstead Avenue and Peninsula Blvd, Lynbrook, on Thursday, Jan. 26 and Friday, Jan. 27 from 2-4 and 7-9 PM.
Lynbrook Fire Department services will be on Friday at 8 PM. Funeral Mass is Saturday, Jan. 28 at 9:30 AM at Our Lady of Peace Roman Catholic Church, Merrick Road and Peninsula, Blvd.
Memorial contributions may be made to: Tally-Ho Engine Company #3, PO Box 871, Lynbrook, NY 11563.
"Tally-Ho, the Lynbrook Fire Department, and the Village of Lynbrook, has lost a true dedicated individual who served this community unselfishly throughout his entire life. He will be missed by all of us," said Tally-Ho Captain Domenick Gerardi, Sr.