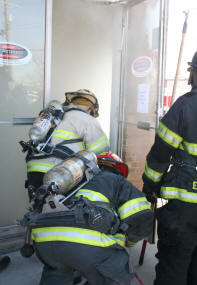 On Sunday, January 25, 2009, the training committee of the Lynbrook Fire Department, under the command of Chief John O'Reilly, held a drill at the old King O'Rourke Cadillac dealership on Merrick Road.
The owners of the property gave permission to the Department for the use of the building for a firefighting drill before it is torn down for a new CVS store. The Rockville Centre FD sent a ladder to the scene and took part in the drill.
Additionally, the Malverne Fire Department sent a ladder, and East Rockaway FD sent an engine, to stand-by to answer Lynbrook calls during the drill.
They responded to one call during the drill. Chief O'Reilly thanked those departments for their help.