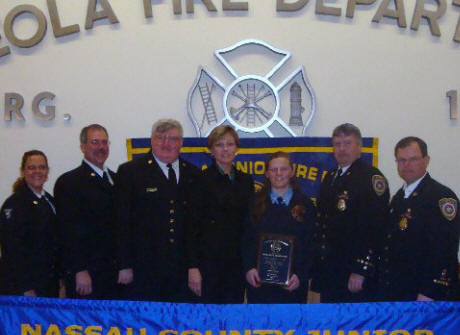 On Saturday, January 31, 2009, Lynbrook Junior Fire Department Captain Kara McLaughlin was honored by the Lynbrook Fire Department at the Nassau County Junior Firefighters Association where Kara has just completed her term as first vice-president of the association. As she is turning 18 soon, she will be leaving the juniors program and the county association and joining the Lynbrook Fire Department. Her father is a member of the department. Captain McLaughlin was presented the plaque by Lynbrook Chief John OíReilly. In the below photo, from left to right are, Junior Advisor Laura Gulliksen, Advisor Larry Bien, Second Deputy Chief Ray Burke, Karaís mom, Maryanne, Kara, Chief OíReilly, and First Deputy Chief Kevin Bien.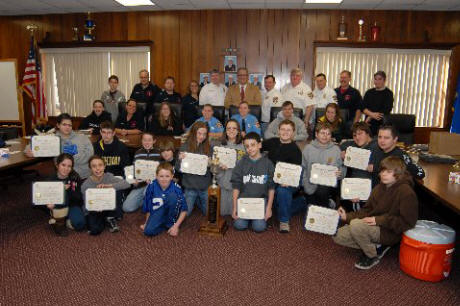 On Sunday, February 1, 2009, Senior Town Councilman Anthony Santino presented certificates to each member of the Lynbrook Junior Fire Department and their advisors honoring the membership for being named the best Junior Fire Department in Nassau County for 2008. This is the third time (2003, 2005, 2008) the Juniors were named Nassauís best. In the above Town of Hempstead photo, Councilman Santino joins with the members and the advisors at Lynbrook Fire Headquarters after the presentation.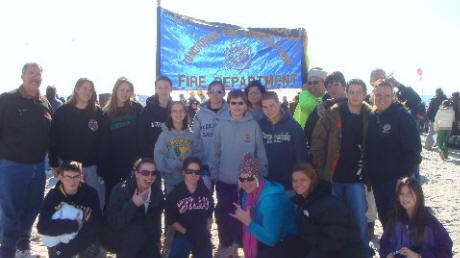 Also on Sunday, February 1, 2009, eighteen members of the Lynbrook Junior Fire Department, along with four advisors and a few department members, took part in the Long Beach Polar Bearís 12th annual plunge into the frigid Atlantic Ocean to benefit the Make-A-Wish Foundation. The juniors, who joined 3500 other people, pledged and donated monies to the Foundation.