Story by Ex-Captain Steve Grogan; Photo by Captain Estelle Riviera
"I know who you are. I will always remember you. You saved my life!"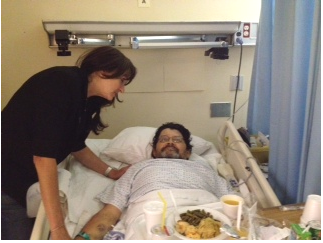 Those were the words of Hugo Gallardo speaking in Spanish as he greeted Lieutenant Lynn Curtis the evening of August 16th, 2012 from his hospital bed at Nassau County University Medical Center when she and Captain Estelle Rivera, both members of the Lynbrook Fire Department's Emergency Medical Company visited with the man Curtis and other firefighters saved in a terrible accident on July 23rd when Gallardo was run over in his wheelchair by a tractor trailer truck as he crossed Sunrise Highway at Ocean Avenue. Gallardo lost his left leg in the accident.
On that day, Gallardo, age 58, had just had lunch with his brother-in-law, Jim Guerra, at US Lumber at Ocean Avenue and Merrick Road where Geurra works. According to Geurra, Gallardo travels weekly on his small motorized wheelchair from his home in Oceanside to have lunch with him. Gallardo uses the wheelchair while recovering from recent back surgery. He also wears a fiberglass and medal brace from his chest to his hip while his back heals. "It usually takes him 50 minutes to travel in the wheelchair from Lynbrook, down Merrick Road, to his home," he said.
After lunch that day and seeing it looked like rain, Gallardo decided to head back home. At about 2 PM, as he began to cross Sunrise Highway when the light changed, he was hit by the tractor trailer who turned from Ocean Avenue onto Sunrise Highway, going West. Gallardo told firefighters and Geurra that as the truck turned he looked up at the truck and saw the driver was on his cell phone. The truck ran him and his wheelchair over before stopping. Gallardo was under the truck.
The Lynbrook police and fire departments were immediately dispatched to the scene for a reported "pedestrian struck." An Emergency Medical Company ambulance driven by Ex-Chief William Consenza with EMT-CC Curtis and EMT Corey Hirsch on board responded within three minutes of the call after Lynbrook Fire Chief Anthony DeCarlo ordered a "forthwith response" from the scene.
Upon arrival of the LFD ambulance, Curtis climbed under the truck and found Lynbrook firefighters James Tucker and Dan Ambrosio there trying to calm Gallardo who was unaware his leg had been severed. Also present was a firefighter from Long Beach and another from Oceanside who were passing by and offered their help.
Curtis said, "Gallardo was conscious but in a lot of pain." She saw his left leg was severely crushed and the lower part of the leg, just below the knee, was severed from his body except for a piece of skin holding it on. "He didn't know his leg was gone and we didn't tell him," Curtis said. She immediately first checked his lungs and then administered oxygen with the help of Hirsch who ran back and forth from the ambulance for equipment Curtis needed to stabilize the man. With the help of Tucker and Ambrosio, Curtis put a tourniquet around the leg above the knee to stop the flow of blood. All of the firefighters, including the those from Oceanside and Long Beach, then put the missing leg back together and wrapped the whole left leg up. While working on the man Curtis asked Chief DeCarlo to get a NCPD helicopter to the scene for transportation to Nassau County University Medical Center in East Meadow. Curtis said she asked for the helicopter because the man "needed to be in a trauma one hospital as soon as possible." She feared he would go into shock before he got to that hospital by ambulance.
Luckily, a NCPD helicopter was already in the air on patrol and within three minutes had landed on Sunrise Highway. Lynbrook Ex-Captain Nick Pearsall, who was also on the scene, kept the EMT's apprised of the timing of the arrival of the helicopter as they continued to work under the truck.
Shortly after the accident, Gallardo's brother in Law, Guerra, who had been notified of the accident, arrived and acted as an interpreter and spoke to Gallardo in Spanish to keep him calm. Curtis by now had inserted two IV's to get fluids into the man's system. They also bandaged additional cuts and wounds to the man's head and back. All the firefighters then turned Gallardo over to get him on the board that was used to carry him to the waiting helicopter.
According to Guerra, Gallardo who is from Chile is expected to remain at NCUMC for another month of rehabilitation. Although the leg had been severed below the knee by the accident, surgery at NCUMC resulted in amputation of the leg above the knee due to the leg being so crushed by the truck.
Curtis said their life saving efforts was "a team effort with everyone pinching in to save the man's life." Chief DeCarlo also praised the responders. "Everyone pinched in to help this man. I am glad to hear he is recovering and I am proud of our Lynbrook volunteers," he said.