Dedicated Professional is Twice a Hero
By Ex-Captain Steve Grogan
"I am compelled to share my gratitude and thanks to this hero and all of the dedicated professionals who serve along side her."
Those words were written by the daughter of a Lynbrook resident about Lynbrook firefighter and Advanced Emergency Medical Technician (AEMT) Lynn Curtis of the Lynbrook Fire Department's Emergency Medical Company who saved her father's life on November 2, 2009.
On that date, at about 1:25 PM, Lynbrook resident and retired FDNY Fire Marshal Tom Schule was involved in a serious auto accident on Atlantic Avenue at Stauderman Avenue when his SUV overturned in front of Lynbrook Hardware and he was thrown through the windshield onto the roadway.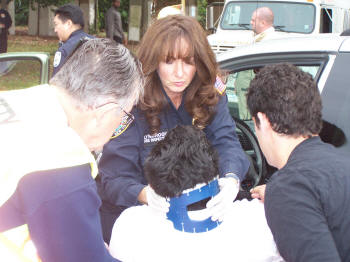 Firefighter/AEMT Curtis, also the Village of Lynbrook's Fire Inspector, responded in her village vehicle to the scene, finding Schule seriously injured with severe facial trauma from the windshield glass and roadway. He had lost a lot of facial skin and was losing a lot of blood.
Curtis immediately began working to stop the flow of blood. She was able to control the bleeding while immobilizing Schule to prevent further injury. With the arrival of the Medical Company ambulance and other firefighters, Curtis organized Schule's removal from the street to a stretcher and transportation to the hospital. Schule survived his ordeal and a number of surgeries. He was soon home.
With her father's life saved by the quick actions of Curtis, Tom Schule's daughter, Melissa, wrote to the Lynbrook Fire Department. Besides calling Curtis a hero she also told of Curtis' compassion and ability to talk to her father during the rescue operation to keep him from going into shock. Melissa said that Curtis kept her father alert by talking about the Yankees and the World Series game that was to be played that evening. She also said that while her father was recovering in the hospital, Curtis came to visit and brought him a New York Yankees 27th World Series Championship t-shirt that she purchased especially for him.
Melissa closed her letter with the comment, "I believe that Lynn Curtis truly deserves to be congratulated and rewarded for providing such a high level of professionalism and genuine concern."
Well, on October 21, 2010, that is exactly what happened. Lynn Curtis was honored by Kate Murray and the Town of Hempstead at their annual Firematic Awards ceremony for her life saving actions of November 2, 2009.
But the story doesn't end there. She was also recognized at the ceremony for saving a second life.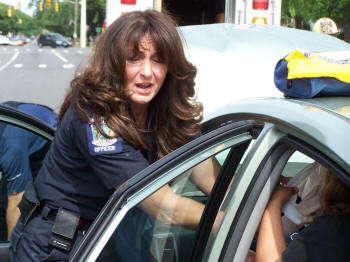 On May 10, 2010, the Lynbrook Fire Department was called out for a reported cardiac arrest at the deli on Hendrickson Avenue at Woodlawn. Curtis arrived on the scene and found Lynbrook police officers attempting to revive Dave Listort, a landscaper, who collapsed to the floor in cardiac arrest while ordering lunch. He had no pulse. When Curtis arrived, the officers had all ready shocked the man once with a defibrillator, without a response. Curtis took control of the medical scene, and working with the officers, shocked the man again and got a faint pulse. But it didn't last. Again Listort was shocked and his pulse was re-established. With the arrival of the ambulance, Listort was put on a stretcher and put into the ambulance. But, once again his heart stopped and he went into cardiac arrest. Again he was shocked with no response. Curtis quickly administered drugs, an IV, and shocked him one more time with the help of the other volunteers. This time it worked and the man developed a strong pulse. Listort had been shocked five times before his heart began to beat regularly.
Dave Listort made a full recovery and was soon out of the hospital and back working at his landscape business.
After the Town of Hempstead ceremonies in which Lynn Curtis was honored for saving the lives of both these men, members of the Lynbrook Fire Department and the Emergency Medical Company returned to the Medical Company firehouse on Vincent Avenue for a collation. There, Lynn was surprised by a smiling Dave Listort who arrived to gratefully present her with a bouquet of flowers for saving his life.