Story by Ex Captain Steven Grogan - Photos by Brian Grogan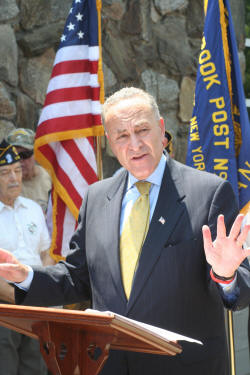 On July 6, 2010, Senator Charles Schumer came to Lynbrook to announce federal legislation he is proposing to name the Lynbrook Post Office after former Lynbrook resident and volunteer firefighter Jeffrey L. Wiener, who as a Navy Corpsman was killed in the action in Iraq in May 2005.
At the press conference in front of the post office to announce the legislation, the Senator was joined by the Wiener and Barberio families as well members of Tally-Ho Engine Company 3 of the Lynbrook Fire Department, where Jeff served as a volunteer and was an Ex-Captain. Additionally, members of Engine 2 of the Valley Stream Fire Department, the Veterans of Foreign Wars, the American Legion, state and local officials, and friends, were in attendance to hear the senator's proposal.
In making the announcement, the Senator said, "Navy Corpsman Jeffrey L. Wiener is the epitome of a true American hero. By renaming the Lynbrook Post Office after this brave man, we are honoring his courage and his dedication to his community and the nation. The Navy Corpsman Jeffrey L. Wiener Post Office will truly be a fitting tribute to a man who gave his life for his community."
Jeff's widow, Maria Barberio Wiener, who was joined by their two girls, Mikayla Lynn, and Theodore Rosa, and her family, while the announcement was made, said, "I am honored to have the Lynbrook Post Office renamed for my husband Jeffrey and I am grateful for the support and help of the Tally-Ho firehouse and the Lynbrook community. I would also like to thank Senator Schumer for taking interest in Jeff's story. His help along with others will help us achieve a goal we set several years ago."
"Navy Corpsman Jeffrey L. Wiener made the ultimate sacrifice for our nation and naming the Lynbrook Post Office after him will honor his legacy in his community," said Senator Schumer in closing.
The legislation should take a few months to pass the Senate and Congress. The official renaming ceremony could possibly occur in the fall.