LFD Prevents Possible Propane Disaster
Story and Photos by Steve Grogan
On Thursday, December 1, 2005, the Lynbrook Fire Department was called out for a reported "explosion" on Williams Street off of Merrick Road. The explosion turned out to be a fire in a vehicle that was parked in the parking lot behind the Long Island Banana Company. The vehicle, which had been parked on the property for some time, and for sale, was being started at the time by the new owner. When he started the vehicle the engine compartment exploded in flames. He leaped safely from the vehicle.
Chief James McDermott and Deputy Chief Keith Festa arrived on the scene and sized up a more dangerous situation. The Chief, upon the arrival of Tally-Ho Company from nearby Horton Avenue, ordered them to immediately get tank water, not on the burning vehicle, but on a cage containing 8 industrial size propane tanks that sat next to the fully involved burning vehicle. The Chief also ordered the next arriving pumper from Vulcan Company to pick up a hydrant on the block and stretch in. While Tally-Ho wet down the propane tanks with their booster line, Vulcan stretched a pre-connect line and began to put out the vehicle fire which had spread to a second parked vehicle. Manpower from Truck Company, under a curtain of water, moved the propane tanks from the cage and away from the burning vehicles.
It took about 15 minutes to fully extinguish the vehicles. The Department was on the scene for about a half hour. There were no injuries and a possible disaster was averted with the quick action of the Lynbrook Fire Department.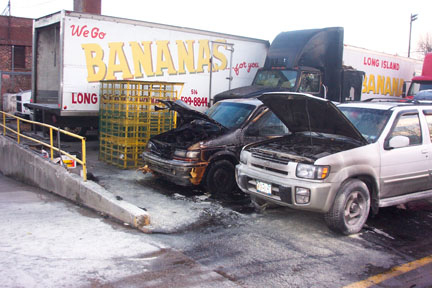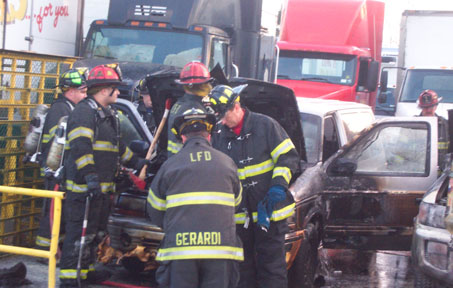 02/28/17 16:11
Copyright © 2000-2005 Lynbrook Fire Department. All rights reserved.
Revised: 28 Feb 2017 16:11:52 -0500 .
Your internet consultant