NASSAU'S FIRST AND BEST JUNIORS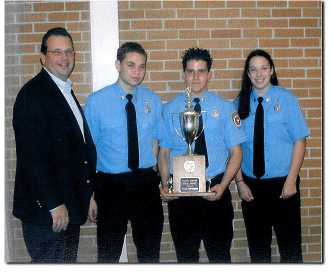 On November 1, 2003, the members of the Lynbrook Junior Fire Department were honored at the Nassau County Drill Team Captains Association Dinner held in Lindenhurst for being the Best Appearing Junior Fire Department in Nassau County in 2003. At this annual event the Drill Team Captains Association honors the first and best fire department, junior fire department and ladies auxiliary for that particular year. This is the second time that Lynbrook's Junior have been Nassau's best Junior department.
In the above photo, Lynbrook Junior Captain Sean Donald holds the Drill Team Captains First Place Trophy, as Junior First Lieutenant Kaitlin Matzen, stands on the right, and Junior Second Lieutenant Jonathan Bierd, is on the left. Lynbrook FD First Deputy Chief David Pearsall, extreme left, was on hand for the presentation.
02/28/17 15:57
Copyright © 2000-2003 Lynbrook Fire Department. All rights reserved.
Revised: 28 Feb 2017 15:57:22 -0500 .
Your internet consultant