At the recent Nassau Regional Emergency Medical Services Council's 2006 EMS Awards Dinner held at the Coral House in Baldwin two Lynbrook Fire Department members, who belong to the Emergency Medical Company, were honored. Alice Jablonsky and Jennifer Olivera were honored for their volunteer tour of duty last year in the Alabama area after Hurricane Katrina and other hurricanes hit the south. Specifically, in 2005, after Katrina and other storms had hit the Gulf Coast, Jablonsky and Olivera, who both joined the LFD in 1999, volunteered to join a FEMA team being deployed to Alabama to assist victims of those storms. Both women traveled to the Gulf Coast and assisted hundreds of displaced victims to find shelter, food and medical supplies. Jablonsky stayed down there and worked for eight months while Olivera was there for five months. Both were presented the Basic Life Support Provider of the Year Award by the Council.
Lynbrook Emergency Medical Company Captain Cathy Bien said, "Both women have proven what volunteerism and service to one's community and country is all about."
The Nassau Regional Emergency Medical Services Council was established in 1993 by an act of the New York State Legislature to facilitate regional cooperation, planning, and implementation of emergency services. The Council consists of 30 Nassau County residents who are members of EMS providers, hospital based professionals, and other EMS personnel working in communications and disaster management in Nassau County. The Council is responsible for coordinating EMS services within the county.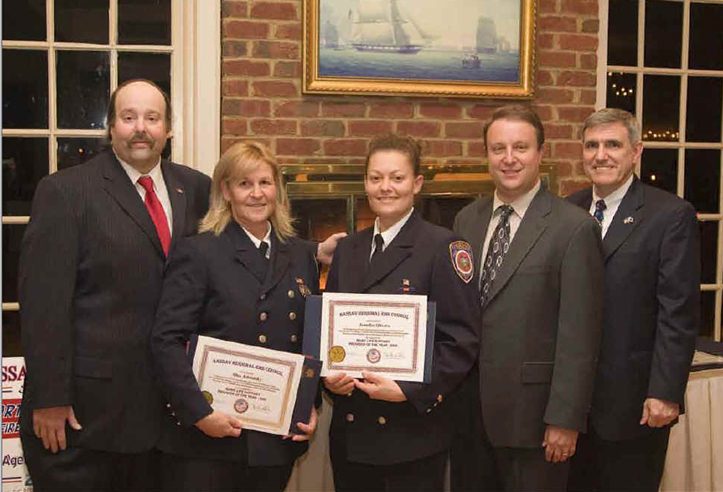 In Photo above: Alice Jablonsky, second from left, and Jennifer Olivera, third from left, hold their awards. They are joined by Scott Lenkofsky, left, Council Chairman, Scott Glazer, second from right, Council Vice Chairman, and John Hassett, Executive Director.