<![if !vml]>

<![endif]>
<![if !vml]>

<![endif]>
Photos and Story by Steven Grogan
On Sunday, October 26, 2003 the members of the Lynbrook Fire Department, along with the Ladies Auxiliary and the Junior Fire Department, gathered at the Firefighters Memorial on Sunrise Highway at Earle Avenue to remember, as they do each year, the memory of those Lynbrook firefighters who gave the supreme sacrifice for the Lynbrook community. The service was attended by village officials as well as Town, County and State elected officials. After the service members gathered at Truck Company's quarters on Earle Avenue for Annual Memorial Breakfast.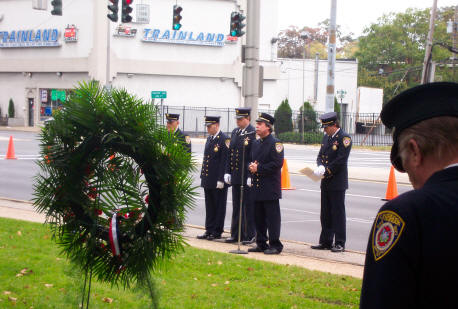 Lynbrook Fire Department Chaplain, Father William Breslawski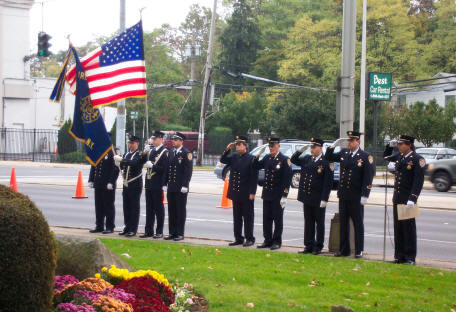 Lynbrook F.D. Color Guard, Clergy and Chiefs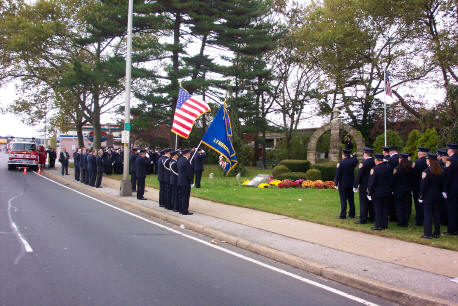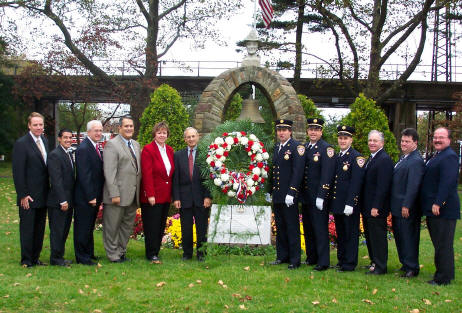 Left to right- Hempstead Town Receiver of Taxes Donald Clavin, Mark Bonilla, Hempstead Town Clerk, Hempstead Town Councilman James Darcy ,Hempstead Town Councilman Anthony Santino, Town Of Hempstead Supervisor Kate Murray, Lynbrook Mayor Eugene Scarpato, Chief Crowley, 1st Asst. Chief Pearsall, 3rd Asst. Chief Festa, Lynbrook Village Trustees Morey Foreman, Bill Hendrick & J. Kevin Kelly.
Also in attendance at the Memorial Breakfast were N.Y. State Senator Dean Skelos and State Assemblyman Robert Barra.
Your internet consultant
Copyright © 2000-2003, Lynbrook Fire Department. All rights reserved.
Revised: 14 Jun 2015 14:57:30 -0500 .