Story & Photos by Steve Grogan
On Memorial Day, May 29th 2006, the Lynbrook Fire Department, the Ladies Auxiliary, and the Junior Fire Department, led by Chief Keith Festa, gathered at the Firefighter's Memorial at Sunrise Highway and Earle Avenue for the annual memorial service for four LFD members, two from Hose Company, and two from Truck Company, who were killed in action in World War II. Their stone markers are located around the base of the Firefighter's Memorial, which also honors six volunteers killed in the line of duty in this village. Both Hose and Truck Companies placed wreaths at each of the four markers. The Chiefs then placed a department wreath at the memorial.
After the services the whole department marched in the annual Memorial Day Parade down Merrick Road which was sponsored by our VFW.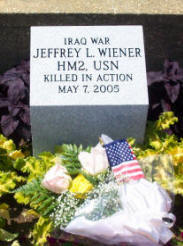 At the conclusion of the parade, the Chief, members of Tally-Ho Engine #3, and other department members, attended the unveiling a marker at the Village of Lynbrook's Doughboy Monument for Tally-Ho Ex-Captain Jeffrey L. Wiener who as a Navy Corpsman was killed in Iraq on March 7, 2005. Additional information about Jeff and photos of the services for Ex-Captain Wiener can be seen on Tally-Ho's page of this website.