FATHER BILL BECOMES L.F.D. CHAPLAIN
Story & Photo by Ex-Capt. Steve Grogan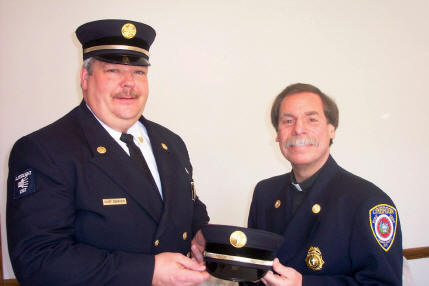 Father William Breslawski, right, the new Pastor of Our Lady of Peace Church in Lynbrook, is shown here receiving his Lynbrook Fire Department uniform as Catholic chaplain from Lynbrook Fire Chief John Obanhein.
Father Bill, as he is called, replaces Father Larry Penzes who was killed a year ago while serving Mass at OLP. Father Bill was officially installed as Pastor of OLP by the Diocese of Rockville Center at a Mass on March 1, 2003. He joins Rabbi Howard Diamond of Congregation Beth David and Reverend Christine Bohr of St. Johns Evangelical Lutheran Church, as a Chaplain to the men and women of the Lynbrook Fire Department.

Copyright © 2003-2017 Lynbrook Fire Department. All rights reserved.
Revised: 19 Feb 2017 09:58:03 -0500 .