Firefighters Battle Blaze At Their
Own Historic Lynbrook Firehouse
By Shannan Murphy, Lynbrook Fire Department Press Liaison (Photos by Steve Grogan, LFD)
The Lynbrook Fire Department acted as they would for any reported fire. From the beginning, however, they all knew it was different. At approximately 5:40am on April 22, 2005, the members awoke to the sound of the dispatcher's voice announcing a fire at one of the Department's own firehouses; Truck Co. #1 on Earle Avenue.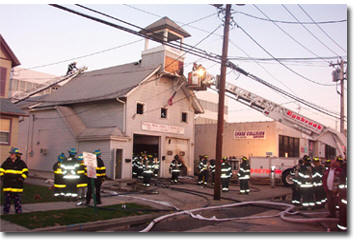 The firehouse, built in 1884, is an historical site now facing an uncertain future. The electrical fire in the building caused structural damage and may have to be rebuilt. However, thanks to the watchful eye of a Lynbrook Department of Public Works Employee who also serves as Captain at Truck Company, the majority of the equipment stored in this house, along with the three Department vehicles were saved. Captain Michael Gilmartin of Rescue, Hook, Ladder & Bucket #1, noticed smoke coming from the building and alerted authorities. His quick actions allowed for the Lynbrook Fire Department, along with assistance from the East Rockaway and Rockville Centre Fire Departments, to arrive on scene and make a quick stop of the fire. According to Chief James McDermott, the fire was brought under control by 6:20am.
Chief McDermott expressed great thanks and appreciation to all who acted in this emergency. "It is comforting to know that in a time of hardship we as a Department can call upon our neighbors for assistance. This situation hit too close to home. The quick actions of all who responded are to be commended. We may have suffered a hardship, but we will grow from this and continue to provide the best possible protection and service to all who call Lynbrook home."
---
Note to our faithful readers on the web. Newsday was contacted to get permission to post their story about the firehouse fire. The Tribune Company, owners of Newday, responded by asking for $75.00 to reprint the story on our website. It is the opinion of the webmaster that a not for profit volunteer fire department should not be asked to make a payment to post a story, especially one of such historical significance. This is a not-for-profit website, with the only intention of informing the public of stories of interest relating to the Lynbrook Volunteer Fire Department. This decision should not construed to reflect badly on the actual reporter, Keiko Morris, who wrote a compelling account of the fire and the membership's reaction to the tragic events. In the future we will not be linking any of our stories to Newsday articles.
---
Lynbrook Herald Article - By Karenlyn Barone
Visit News12 for video and story - Cablevision or Optimum Subscription required.
Photos on this page are by Ex-Capt Steven T. Grogan
©PHOTOS - COPYRIGHT 2005 LYNBROOK F.D. - ALL RIGHTS RESERVED.