For over the past 40 years at Christmas time the volunteer men and women of the Lynbrook Fire Department have given the children of Lynbrook an annual Christmas present with rides on their fire trucks. This year's event took place on Saturday, December 16, 2006, from 12 noon to 3 PM. At 12 noon, Lynbrook's children were lined up in the parking field along Peninsula Blvd at the corner of Denton Avenue for a ride on one of Lynbrook's shiny fire trucks.
After a ride, with sirens blaring and horns blowing, and which went for about 8 blocks in the downtown area, the children were brought back to the Vulcan Company firehouse on Denton Avenue where they got to sit on Santa Claus' lap and have hot chocolate while their parents had cake and coffee. The Department's fire prevention unit gave the children plastic fire helmets. Most of the children, and even some parents, rode on numerous different trucks during the three hours.
Chief Keith Festa said there was an exceptional amount of children and parents who came out this year, most likely due to the warm weather. He hopes that the children enjoyed themselves.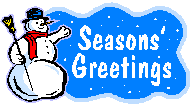 Chief Festa also extended best wishes on behalf of the 240 members of the Lynbrook Fire Department to all of the residents for a safe and joyous Merry Christmas, Happy Hanukah, and a Happy New Year.