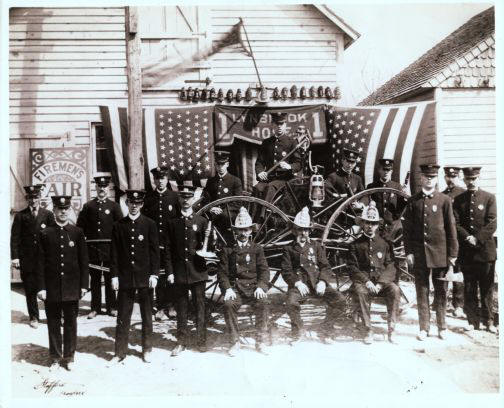 On March 9, 1908, thirteen concerned residents met in the home of Andrew Post, a resident of Hempstead Avenue, and a then prominent resident, and proposed the forming of a third fire company in a growing community know as Lynbrook.
Those thirteen men that day, including Post were, William "Billy" Karn, who is believed to be the original organizer for forming this new fire company, and Hugo Cook, Henry P. Schweitzer, William Cochran, Peter Kischoff, John Hiller, William Conway, Frank Whelden, Steve Dolbeer, John Torrence, Charles Potts, and Charles Fox.
At that first meeting the group of charter members proposed naming the new fire company, Lynbrook Hose Company No. 1, and appointed Andrew Post as it first "Foreman," now referred to as a Captain.
After that meeting the members filed incorporation papers with the State of New York, and on Friday, March 13, 1908, Hose Company No. 1 of the Lynbrook Fire Department was officially a fire company through the efforts and dedication of those 13 men.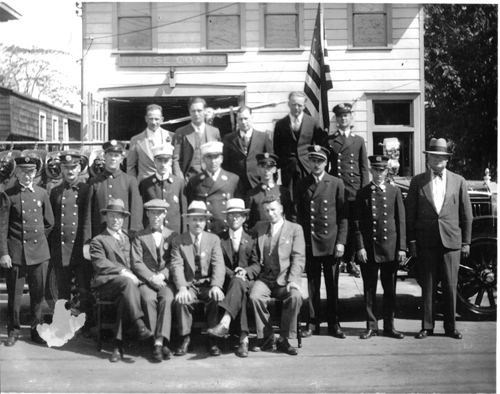 After all the formalities of this new organization were established, the next task was to obtain a piece of fire apparatus for the men to use to fight fires. Back then volunteer firefighters pulled a four wheeled cart with hose to a fire scene.
A committee was next appointed and a search was begun to locate a used piece of fire equipment. The members located a "high, four-wheeled jumper" hose wagon which was for sale from the Rockville Centre Alerts Fire Company, which had just purchased a new one. The "jumper" as it was called, was also known as a "giraffe" and originally saw service in Flatbush, Brooklyn. The Hose Company members purchased the "jumper" for $25. When it arrived in Lynbrook, and without having a firehouse, it was stored in the barn of member John Torrence on Noble Street, just west of Hempstead Avenue.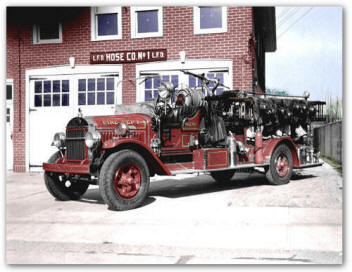 1926 MACK PUMPER >
The Hose Company volunteers were soon pulling their "jumper" to the borders of East Rockaway, Rockville Centre, Franklin Square, and Valley Stream, to fight fires. With now only having a barn for the "jumper," and no other room, the new fire company held their meetings in the firehouse belonging to Rescue, Hook and Ladder Company No. 1, on Earle Avenue, Lynbrook's first fire company. Hook and Ladder charged Hose Company $1 per meeting to use their firehouse.
In 1911, Steve Dolbeer, one of the original 13 charter members that helped form the new company, was elected and served as Fire Chief of the Lynbrook Fire Department for two years. The Lynbrook Fire Department consisted that time of only three companies, Hook and Ladder No. 1, Engine Company No. 1, and Hose Company No. 1.
The Hose Company members next held dances, fairs, and other entertainment to help raise the needed funds to build their own firehouse. The monies raised from the growing community were used to purchase two empty lots on Blake Avenue, behind the Lynbrook movie theater. In 1912, the same year that the Village of Lynbrook was incorporated, Hose Company moved into its new firehouse and it is still being used today by the fire company.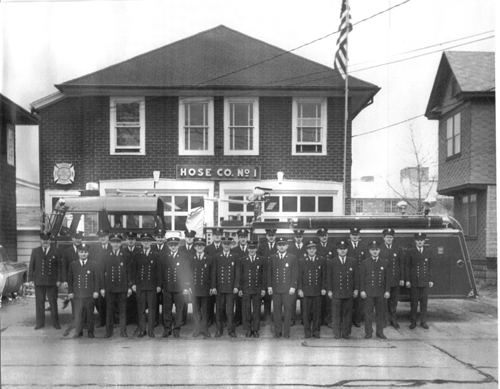 In 1917, the company received its second piece of fire apparatus and the first factory built equipment, which was then followed by a replacement in 1926 with a new hose truck. Twenty years later in 1946, that hose truck was replaced with a triple combination 750 gallon fire pumper. In August 1967, Hose Company received the Lynbrook Fire Department's first diesel powered fire engine. The company now responds from their Blake Avenue firehouse with a 1,500 gallon pumper which was purchased by the village in 1992.
On the evening of March 13, 2008, the present volunteer members of Hose Company celebrated the company's official 100 years of service to the Village of Lynbrook with a special meeting in which all former Hose Company volunteers were invited to attend. At this meeting the original minutes and original records of the forming of the fire company were read. They also honored the memory of the 13 community minded residents who worked together to organize the company.
Although the company was officially incorporated on Friday, the 13th, there is nothing superstitious about the dedication and commitment that Hose Company volunteers have made to our community for over 100 years.